Smith
United Wholesale Mortgage (UWM) has announced the hire of Desmond P. Smith as the company's chief growth officer. Smith most recently served as senior vice president and chief customer officer for Single Family Business at Fannie Mae. In the newly formed role at UWM, Smith will focus on innovative ways to advance and grow the mortgage broker channel. He has three decades of experience from his time spent at FHA, Wells Fargo, JPMorgan Chase, Citi, Capital One Home Loans and Fannie Mae.
Gray
Knock has announced that it has hired mortgage and home loan industry veteran Laura Gray as head of lending. In this role, Gray, who brings more than 30 years of experience across all facets of the mortgage origination and lending process, will lead the day-to-day operations of Knock's lending business. She has worked with some of the nation's largest lending institutions, including Peoples Bank Mortgage, Wyndham Capital Mortgage, Fifth Third Bank and Wells Fargo.
Quontic has hired Craig Schimelman as vice president, national wholesale sales manager. Schimelman comes to Quontic from Athas Capital Group, where he served as vice president of wholesale production. Schimelman will continue building out the national wholesale footprint for Quontic. He is responsible for hiring regional sales managers and wholesale account executives to aggressively grow the Non-QM market.
Lipscomb
Homepoint has announced the appointment of DeAndre Lipscomb to the new role of chief diversity and Inclusion officer. Lipscomb will be responsible for partnering with business leaders to develop and implement strategic, programmatic and operational initiatives that promote a culture of diversity, equity and inclusion. Lipscomb joins Homepoint after serving as executive director of the Lake Trust Foundation and community impact manager for Lake Trust Credit Union. Prior to Lake Trust, Lipscomb worked in the health insurance industry for 21 years.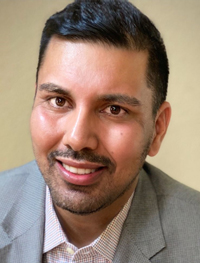 Bhandal
Guaranteed Rate Affinity has added Gurp Bhandal as senior vice president and California market leader. Bhandal, who is based out of San Francisco, brings more than 20 years of mortgage and finance experience to Guaranteed Rate Affinity. He will be responsible for building Guaranteed Rate Affinity's market share throughout California. He comes to the company from Citibank, where he served as area lending manager for San Francisco and Oakland.
Keratsis
Deephaven Mortgage has named John Keratsis as its new president and CEO. Keratsis brings to Deephaven nearly two decades of experience and expertise. In his new role, he is responsible for leading the next phase of the company's strategic growth. He will partner closely with former president and CEO Matt Nichols, who will continue to serve as executive board chair. Prior to joining Deephaven, Keratsis held the position of senior managing director at Incenter. Before that, he spent nearly 12 years as founder and CEO of Boston National Holdings.
Got a new hire or promotion? Share it with Scotsman Guide readers
here
!
Nigam
Spring EQ has hired Saket Nigam as senior vice president, capital markets. In his new role, he will be responsible for leading Spring EQ's continued growth in the consumer-direct and wholesale mortgage markets for first and second mortgage products. He brings more than a decade of mortgage experience, most recently at Roundpoint Mortgage. Prior to Roundpoint, he also held positions at tapReplay, Compass Analytics and Bank of America Merrill Lynch. He graduated with a bachelors degree in mathematics from the University of North Carolina at Chapel Hill.
InterLinc recently promoted James Durham to senior vice president. Based in Auburn, AL., Durham has served as InterLinc's Southeast divisional vice president for the past seven years. Durham joined InterLinc with a managerial track record at financial institutions including Supreme Lending, Primary Capital and SunTrust Mortgage. He holds a bachelor's degree in business and a minor in finance from Auburn University.
Lenders One Cooperative has announced that Justin Demola has been promoted to president. Demola will be responsible for the day-to-day operations and strategic execution of the cooperative. He joined Lenders One in 2019 as vice president, sales, and most recently served as managing director. He has nearly 30 years of mortgage, consulting and business development experience, including roles as chief operating officer of MLB Residential Lending and president of The Hills Mortgage and Finance Company.
Jones
SLK Global Solutions has added property tax servicing veteran Shane Jones to its leadership team as vice president of tax outsourcing operations. Jones, who has been a part of the servicing industry for over 25 years, comes to SLK Global Solutions after four years at Mr. Cooper, most recently as assistant vie president of escrow tax. He also worked at CoreLogic for 11 years.
Seroka has announced today that John Seroka has been elected to the role of president. With more than 20 years of experience in the mortgage industry, John began his career as a mortgage loan originator in the Los Angeles and Orange County, California, markets. He joined Seroka as an account executive and later became a vice president. He holds a bachelor of arts degree in business and broadcast and electronic communications from Marquette University.