Levin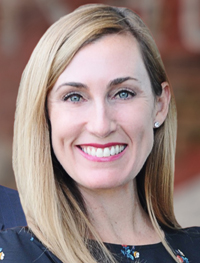 Halliday
Guaranteed Rate is expanding its California presence with two new vice presidents of mortgage lending in Huntington Beach: Jon Levin and Erin Halliday. The pair bring more than 50 years of combined mortgage-industry experience to Guaranteed Rate. Before joining the company, Levin was a branch manager at Wells Fargo for more than 12 years and also worked at RPM Mortgage, United American Mortgage Corp. and Union Bank. He has a degree in business finance from California State University at Long Beach. Halliday, meanwhile, comes to Guaranteed Rate after nearly six years at Wells Fargo, with previous experience at RPM Mortgage, DLJ Financial, Quantum Law Firm and Secured Funding. She holds a bachelor of science degree in business finance from the University of Southern California.
ClosingCorp, a San Diego-based provider of residential closing-cost data and technology, has announced the addition of Maria Sedlack as national sales executive for data solutions. Sedlack will be responsible for clients and capital markets using ClosingCorp data to develop risk and securitization solutions. Before joining the company, she was a senior sales executive in the data and analytics division of Black Knight, and held various leadership positions at Fitch Ratings.
Bopp
Planet Home Lending, based in Connecticut, has added Jim Bopp as vice president of national renovation lending. In his new role, he will oversee the company's retail and correspondent renovation loan programs, including FHA 203(k), VA alterations and conventional loan products. Previously, he worked at Platinum Home Mortgage, Community Bank, Irwin Mortgage, Fleet Mortgage and M&T Mortgage Corp.
Russell
Ketchum
Mindell
Rugh
Yvonne Ketchum has been named president of Kind Lending, the new mortgage lending company launched by entrepreneur Glenn Stearns. Ketchum's record of more than 30 years in mortgage banking includes 15 years at Stearns Lending. Joining Ketchum on Kind Lending's newly formed leadership team will be chief technology officer Mark Russell, senior vice president of business initiatives Mellissa Rugh and senior vice president of marketing Christy Mindell. Russell is a 30-year veteran of the technology industry, and has built digital mortgage and underwriting platforms for Stearns Lending and Loan-Score Decisioning Systems. Rugh, who served as senior vice president at Stearns Lending for seven years before transitioning to Kind Lending, previously worked at MetLife Home Loans, First Magnus Financial and Income Management Consultants. Mindell, who comes to Kind Lending via Caliber Home Loans, has previous experience at Stearns Lending, Calcomm Capital and Point Center Financial.
Got a new hire or promotion? Share it with Scotsman Guide readers
here
!
Greco
NewDay USA, a VA mortgage lender based in Maryland, has announced Franco Greco as senior vice president of origination and business development. Greco has been with NewDay USA for nearly seven years and has led the company's VA home loan origination team as vice president since 2017. He graduated from Salisbury University with a bachelor's degree in history.
Massachusetts-based New Fed Mortgage has hired Susan O'Meara as assistant vice president. She comes to New Fed with a mortgage career spanning more than 25 years, most recently as assistant vice president of closing and funding at Berkshire Bank. Prior to Berkshire Bank, she was a post-closing manager at loanDepot.
Sherrell
Open Mortgage has added Sherry Sherrell as regional branch manager of a new branch in Fayetteville, Arkansas. She will be responsible for overseeing the new location, as well as branches in Rogers, Arkansas; Grove, Oklahoma; and Joplin, Missouri. She has a long history in the mortgage industry, including previous experience at PRMG, USA Mortgage, Financial Concepts Mortgage, Bank of Arkansas, Wells Fargo and Associated Mortgage Co.
Garza
Wright
Ohio's Union Home Mortgage has announced the promotions of Cyndi Garza and Bryan Wright to vice presidents of sales. Garza will provide leadership to sales teams from the Upper Midwest to Nevada and Arizona, while Wright will manage markets on the East Coast through Texas. Garza has been with Union Home Mortgage since 2011, opening the first branch in Michigan. Wright, meanwhile, is a 30-year mortgage industry veteran who joined Union Home Mortgage in 2012 after a long career at Advantage Loans.
Carbonara
Landtrust Title Services, a Chicago-based title insurance agency, has added Carmen Carbonara as director of sales for residential services. She has 13 years of experience in the residential title-insurance industry, most recently serving as business development officer for Stewart Title Co. She is a board member of the Women's Council of Realtors and a past member of the board of directors of the National Association of Hispanic Real Estate Professionals.
New York-based fintech SitusAMC has announced that Anne Jablonski has been appointed as executive managing director and head of commercial real estate, while Tom Britt has been appointed as executive managing director and head of residential real estate. All commerce and residential real estate businesses within SitusAMC will now report to Jablonski and Britt, respectively. Jablonski had previously been with the company from 1997 to 2014, rejoining in 2019 as executive managing director and senior relationship manager for enterprise accounts. Britt was previously the company's executive managing director of residential sales. Both are based in SitusAMC's Manhattan office.
Chanin
Leonard Chanin, currently serving as deputy to the chairman at the Federal Deposit Insurance Corporation (FDIC), has been appointed as acting deputy director at the Consumer Financial Protection Bureau (CFPB). He will serve as the agency's second in command on a part-time basis while also keeping his post at the FDIC. Leonard has previously been with the CFPB, serving as assistant director of its Office of Regulations. He also has numerous other years in government service, working in the Federal Reserve's Division of Consumer and Community Affairs. He is a former partner at law firm Morrison & Foerster, and was formerly a senior vice president and deputy general counsel at Fifth Third Bank.