Bischoping
Software fintech Finastra has appointed Gary E. Bischoping Jr. as chief financial officer effective March 16. Bischoping brings several years of leadership and technology experience to the role, including the recent position of CFO at Varian and 17 years at Dell, including a senior finance position. He holds a bachelor of science degree in accounting from the State University of New York College at Oswego and a master of business administration degree in finance and competitive and organizational behavior from the University of Rochester.
Hart
Real estate technology company Compass has announced the hiring of Greg Hart as chief product officer. Hart spent 23 years at Amazon in a variety of leadership positions, most recently overseeing the e-commerce giant's Prime Video business. Now, Hart will be responsible for driving all aspects of Compass' product offering, overseeing the company's product managers, user researchers and product marketers.
Hume
Wylie
Primary Residential Mortgage, Inc. (PRMI) has promoted Brandi Hume to senior vice president of risk management and Hollie Wylie to vice president of compliance. Hume, a 28-year veteran of the mortgage industry, joins the executive leadership team after serving in the company for 11 years, most recently as vice president of quality assurance. Wylie, meanwhile, has been in the mortgage business for over 30 years, spending the past seven as PRMI's director of compliance.
Sogorka
Mortgage and loan servicing fintech Sagent Lending Technologies has appointed Dan Sogorka as its CEO and president. Sogorka, a 20-year veteran of the digital realm within the housing industry, most recently served as CEO of digital mortgage point-of-sale provider CloudVirga. Prior to that, he served as president of EXOS Technologies, executive vice president of ServiceLink and division president at Black Knight.
Krumm
LenderClose, a proprietary lending platform based in Des Moines, Iowa, has added Tana Krumm as vice president of marketing. Her new role will involve formulating new marketing strategies to meet the company's growth targets. Krumm has an extensive background in marketing for finance and healthcare services, most recently serving as marketing communications consultant for American Enterprise Group. Prior to that, she held leadership roles at Two Rivers Marketing, ZLR Ignition and TMG.
WFG National Title Insurance Company, headquartered in Portland, Oregon, has announced the appointment of Brian Hughes as president of its Arizona division. Hughes has more than 25 years of title and escrow industry and experience, including 22 years as president and CEO of Stewart Title in Arizona. He earned his bachelor of science degree in accountancy from the University of Houston.
Got a new hire or promotion? Share it with Scotsman Guide readers
here
!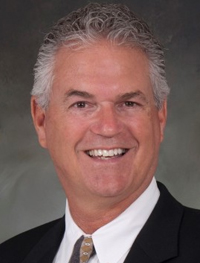 Gilley
Union Home Mortgage has announced the hiring of Jeff Gilley as regional manager to help lead the company's growth in North and South Carolina. Gilley has worked in the mortgage industry since 1997, holding managerial positions in the business for more than two decades. Previously, he has worked at Lumina Mortgage Company, Aaxa Mortgage and Alpha Mortgage.
Abrahamson
Callan
Equity Prime Mortgage (EPM) has announced the promotions of David Abrahamson and Jason Callan. Abrahamson will move into the role of chief production officer, while Callan will take over as chief operations officer. Abrahamson, the company's longtime COO, started his career in the mortgage industry in 1985 after graduating from Georgia State University. In his new role, he will handle all recruiting, training and sales. Callan began his mortgage career in 2000 and joined EPM in 2010. Most recently, he was head of EPM's TPO wholesale division; in his new role, he will oversee operations, underwriting, corporate processing, disclosure desk, closing and funding.
Wells Fargo has announced the addition of Ellen Patterson as senior vice president and general counsel. She will be responsible for all legal affairs at the company and will serve on its operating committee. She joins Wells Fargo after more than seven years at TB Bank Group, most recently serving as group head and general counsel. Prior to that, she was a partner at the New York law firm Simpson Thacher & Bartlett, LLP. She is a graduate of Columbia Law School and received her undergraduate degree from Harvard University.
Angel Oak Home Loans in Florida has added Todd Matthews as area manager. Matthews has managed and cultivated sales teams throughout Florida for over 20 years, beginning his career at Wells Fargo as a branch manager. Since, he has held various senior leadership positions, focused on coaching and mentoring loan officers in the region.
Tobias
Richard Tobias has been named controller at Waterstone Mortgage Corporation, based in Wisconsin. Tobias, who has over a decade of accounting experience, previously served as assistant controller at Park Bank. In his new role, he will head Waterstone's corporate accounting and funding operations, as well as acting as financial liaison for the company's network of branches.
Brown
Gimenez
Phoenix's Bell Bank has added Brandon Brown as a senior vice president and commercial banking manager and Adaliz Gimenez as vice president and commercial banker. Brown will lead a team of commercial bankers in Arizona, while Gimenez will be focused on developing relationships with commercial customers in a variety of professional segments. Prior to joining Bell, Brown worked at Wells Fargo for 15 years; he graduated from Metropolitan State University and the University of Washington. Also a 15-year Wells Fargo veteran, Gimenez has had a nearly two-decade career in banking and lending; she earned a bachelor's degree in business administration from the University of Puerto Rico and a master's degree in business administration from the University of Phoenix.