The Great Smoky Mountains draw their name not from smoke but from the dreamy, bluish haze that's produced by the native vegetation in the area. The mountain range often called the Smokies straddles the border between Tennessee to the west and North Carolina to the east.
It is also home to the most visited national park in the U.S. More than 14.1 million people visited Great Smoky Mountains National Park in 2022, nearly three times more than the next most-visited national park. (Zion National Park in Utah drew 5 million visitors last year.)
It's one of the biggest tourism attractions in the Southeast Region, which includes Tennessee, Alabama, Arkansas, Kentucky, Louisiana, Mississippi and Georgia. Other notable attractions in the region include the French Quarter in New Orleans, the Kentucky Derby at Churchill Downs in Louisville, and the U.S. Space & Rocket Center in Huntsville, Alabama.
Georgia and Tennessee ranked among the top 15 states for revenue generated from travel in 2019, according to the U.S. Travel Association. (Georgia ranked No. 7 at $34.9 billion and Tennessee was No. 15 at $24.5 billion.) Each of these states suffered steep declines in travel-generated revenue during the COVID-19 pandemic, but tourism is on its way back to pre-pandemic levels.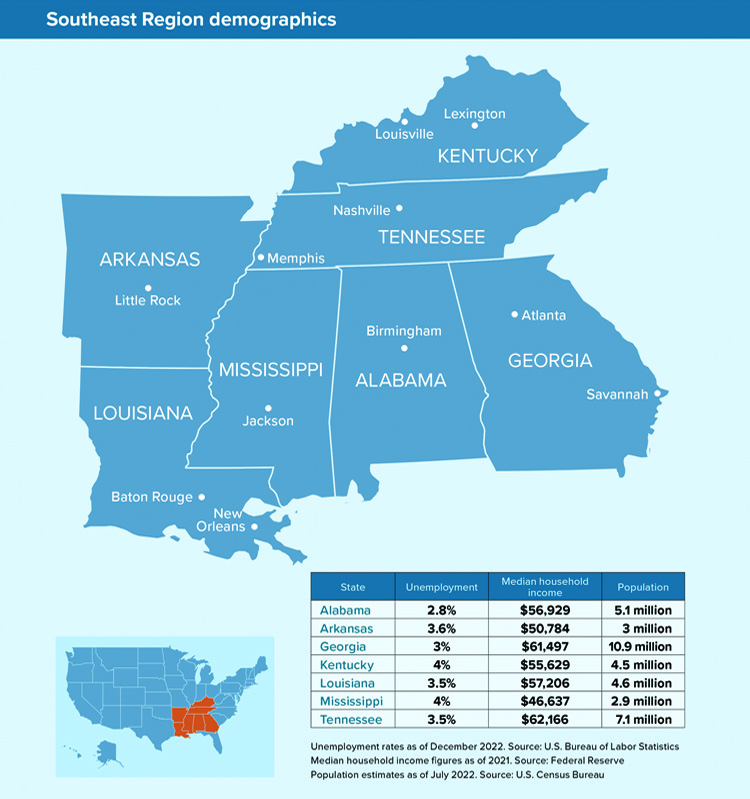 Most of the states in the region are in the middle of the U.S. for gross domestic product, or the measure of goods and services produced by a state. Georgia was No. 8 in the nation with $692 billion in total economic output in 2021, according to the U.S. Bureau of Economic Analysis. Tennessee ranked No. 17 ($427 billion), followed by Louisiana at No. 26 ($259 billion), Alabama at No. 27 ($254 billion), Kentucky at No. 28 ($237 billion), Arkansas at No. 34 ($149 billion) and Mississippi at No. 36 ($127 billion.)
Georgia benefits from a number of corporate headquarters that are mainly located in the Atlanta area, notably including the Coca-Cola Co., Delta Air Lines and The Home Depot. The Peach State has also developed a strong movie- making business with more than $4.4 billion spent on film and television productions in the state in fiscal year 2022. Alabama has nurtured the aerospace industry with more than 15,000 industry-related jobs and 160 aerospace companies calling the Cotton State home.
Louisiana and Mississippi are renowned for their commercial seafood industries. Louisiana brought in 896.4 million pounds of seafood in 2019, good for No. 2 in the nation, while Mississippi was No. 5 at 340.8 million pounds.
The Sun Belt states have generally benefited from strong population growth in recent years and that's true for the Southeast Region. Georgia and Tennessee saw impressive population growth from 2010 to 2020, according to census figures, increasing by 10.6% and 8.9%, respectively. But Alabama, Arkansas, Louisiana and Kentucky each trailed the 7.4% population growth of the U.S. as a whole. Mississippi was one of only three states that lost population during the decade. ●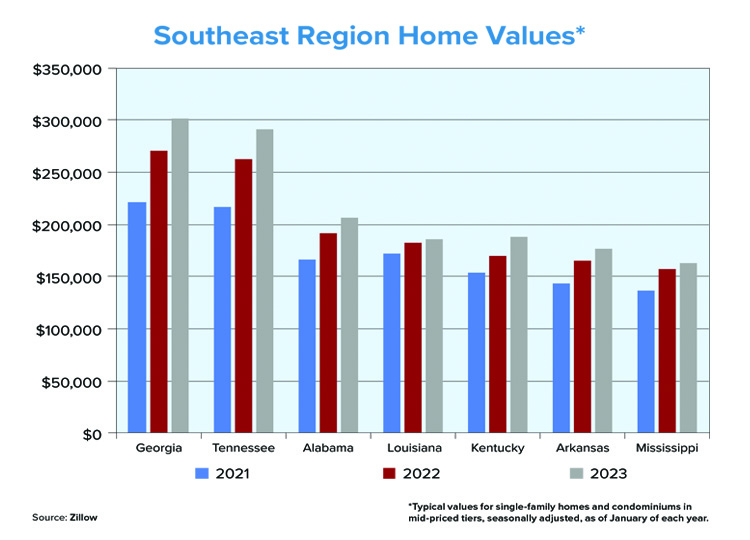 Home prices have risen quickly in the Southeast Region over the past few years, led by Georgia, where the typical home value topped $300,000 in January 2023. That's $80,000 more than just two years earlier. Still, Southeast home prices remained competitive and each of these states had typical home values below the U.S. average of $328,000, Zillow reported.
The Southeast Region states have had increases in housing inventory over the past year, according to the Federal Reserve. The number of active listings in Georgia grew from 15,092 in January 2022 to 25,561 in January 2023. Tennessee's active listings grew from 7,334 last year to 17,883 this year.
Although U.S. housing starts were declining at the start of this year, new construction was heating up in the South, census figures show. From December to January, housing starts in this region rose 7.3% to an annualized rate of 760,000. That's more than half of all new homes being built in the U.S.
The Southeast Region states also have some of the newest housing stock in the nation. As of 2019, Georgia ranked second in the nation as half of its owner-occupied homes were built within the past 27 years.
What the Locals Say
We do a lot of VA loans in northwest Louisiana with Barksdale Air Force Base. We definitely saw a slowdown last year. I don't think it was as drastic as some other communities and regions in the country.
Pre-summer 2022, we saw people offering significantly over asking price for homes. We saw sellers not willing to pay closing costs. We had a lot of sellers not willing to take a VA loan, so it created a problem for our military families. I don't think that was healthy, even though it kept things moving. Flash forward until now and we're still not in a completely seller-to-buyer balanced market. We are seeing things go at the full list price with the seller paying some closing costs. Sellers are more than willing to accept contingency offers. Average days on the market is running around 60.
Our inventory situation is much different. Last year, we got to where the inventory of the northwest Louisiana market was in the low 500s. One time, it dipped into the 400s. Historically, we've had 1,500-ish homes. Now we're back to where we're having some peaks right over 1,000. We did see approximately 15% appreciation in home values, which is good.
In 2019, Litton Mortgage did $95 million in business. In 2020, it went up to $127 million. In 2021, $128 million, and then we flipped back last year to right at $99 million. When I really looked at our numbers, what I saw was a removal of a lot of refinances and not a significant change on purchase transactions.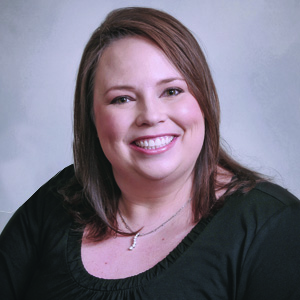 3 Cities to Watch
Atlanta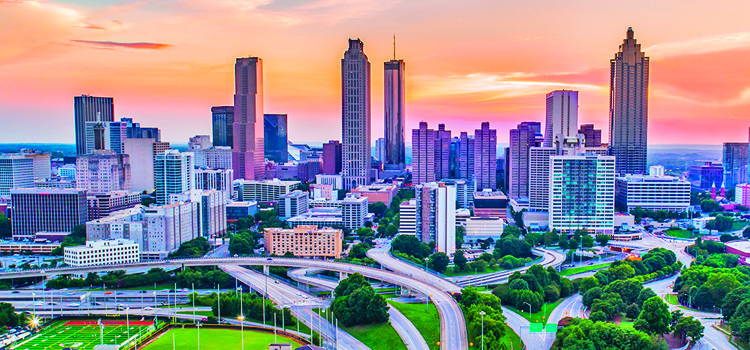 One of the most prosperous cities in the South, Atlanta boasts an impressive list of corporate headquarters including the Coca-Cola Co., UPS and energy giant Southern Company. Hartsfield-Jackson Atlanta International Airport employs more than 63,000 people and serves as the headquarters for Delta Air Lines. The Atlanta Regional Commission recently reported that total employment in the Big Peach is above pre-pandemic levels while citing inflation and housing costs as worrying concerns.
Jackson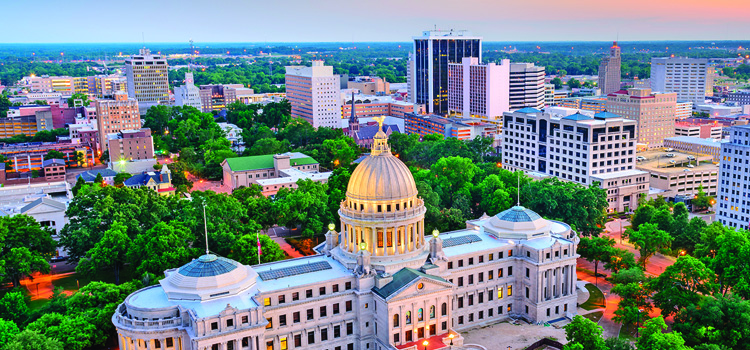 The capital of Mississippi (population 160,000) has been at the center of controversy over the past year. It has one of the oldest water systems in the country and authorities regularly direct residents to boil their water for safety. Last year, the city suffered a dayslong water outage that sparked a national outcry. More recently, the Mississippi Legislature has considered initiatives that have sparked pushback, including an extension of the jurisdiction of the state-run Capitol Police over the entire city.
Memphis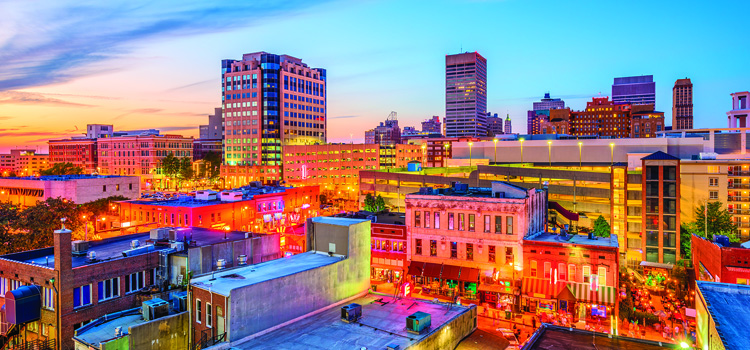 This Tennessee city, which has a deep and well-known musical heritage, benefits from being at the crossroads of the Mississippi River, five major freight railroads and two major freeway systems, making it a major product shipping hub. More than 40,000 people are employed in transportation and warehousing in the city. The head of the Greater Memphis Chamber recently said the city has more people on payrolls than ever before and businesses can't hire workers fast enough.
Sources: Amazing Alabama, Explore.com, Federal Reserve, John Quinn Real Estate, KALW Public Media, Memphis Flyer, Mississippi Free Press, National Association of Home Builders, NBC News, Our State Magazine, Southern Living, State of Georgia, Trading Economics, U.S. Bureau of Economic Analysis, U.S. Space & Rocket Center, U.S. Travel Association, Zillow