The New England region of the U.S. — which includes the states of Connecticut,
Maine, Massachusetts, New Hampshire, Rhode Island and Vermont — is a generally
affluent area. In 2018, four of the six states had a median household income that
exceeded the U.S. median of $61,937, with Connecticut, Massachusetts and New
Hampshire each topping $74,000, according to U.S. Census Bureau data.
The region's population growth, however, was relatively stagnant from 2010 to
2018, census data shows. New England added about 408,000 residents in that eight-
year period, or 2.8% growth, while the U.S. as a whole grew by nearly 6%.
Massachusetts is the largest of the New England states with about 6.9 million
residents. Boston, with a population of 685,000, is a hub for health care, higher
education, finance and tourism. A report this past September in the Boston Business
Journal, however, suggested that the state is in the midst of a housing crisis. Home
prices and rents have risen dramatically in recent years and Massachusetts is
building less than half as many housing units as it did in the 1970s.
Connecticut's economy grew at an annualized clip of 1% in second-quarter 2019,
well below the U.S. average of 2%. There are six Fortune 500 companies
headquartered in the Hartford metro area, including Aetna, Cigna and United
Technologies.
Maine is the largest of the Northeast states by area and 90% of it is covered by
forests, making the logging and paper industries important economic drivers.
According to a report this past October in the Bangor Daily News, the state has
closed six paper mills since 2008 but six others are continuing to operate.
In New Hampshire, a report this past June in the NH Business Review indicated that
a worker shortage is tied to the state's scarcity of housing. As of May 2019, the number of for-sale homes and the number of single-family building permits were
down 17% and 10%, respectively, on an annual basis.
Rhode Island's economy is largely fueled by the shipbuilding and maritime
industries, biomedicine, data analytics and manufacturing, according to U.S. News
and World Report. CNBC also ranked Rhode Island as the worst state for business
this past July because of its aging infrastructure, and an unfriendly tax and
regulatory climate.
Vermont's $34 billion economy is the nation's smallest, according to Forbes. As of
November 2018, the state had a five-year unemployment rate of 3.6% that ranked
as the fifth lowest in the U.S., but the cost of doing business there was 12% above
the national average, Forbes reported
New England Home Prices
According to Zillow, Massachusetts led the New England region with a median home
price of $408,100 as of this past September. Vermont was the region's least
expensive state for homebuyers, with a median price of $210,600. Last year, Maine
broke a record for the month of October when 1,845 homes were sold, state
Realtors reported. In 2018, the median sales price for a home in Maine rose 7.5%
annually and all 16 counties saw a jump in the median sales price.
This past October, the Massachusetts Association of Realtors reported a 12th
straight month of increases in single-family home sales. The same report said that
the number of pending single- family home sales was up 13% year over year, while
the number of pending condominium sales was up 18% year over year.
Focus: Technology

New England is considered a global innovation hub and is home to a multibillion-
dollar tech industry. There are numerous companies in the region that specialize in
telecommunications, software development, biotech, life sciences and cybersecurity.
In 2010, Boston began redeveloping a portion of its waterfront into a new
"Innovation District." Within four years, there were more than 5,000 jobs created in
the area in industries such as clean energy, robotics, software and digital marketing.
Vermont is the least populous state in the region, but it has a burgeoning tech
industry that is responsible for about 30% of the state's private-sector jobs, the
Vermont Department of Economic Development reported. Vermont's colleges and
universities have a number of tech-related degree programs, including software,
information technology, game programming, digital forensics and evolutionary
robotics.
What the locals say

"In general, the [Connecticut] housing market from our perspective has been very
solid. Our purchase transactions are mainly in the mid-range [prices]. We're not a
jumbo-producing lender. I do know that market is soft. It's very soft throughout
Connecticut, so that the higher-end market above $1 million, let's say … has been
getting beat up pretty hard, from what I understand. The cost of construction is
extremely high and the cost of carry is very high on those properties. So, from my
perspective, who wants to pay $30,000, $40,000, $50,000 a year in taxes on the
property they have to carry, in this kind of environment, when you are losing the tax
write-offs as well?"

Frank Sidoti
President, First World Mortgage Corp.

3 Cities to Watch

Boston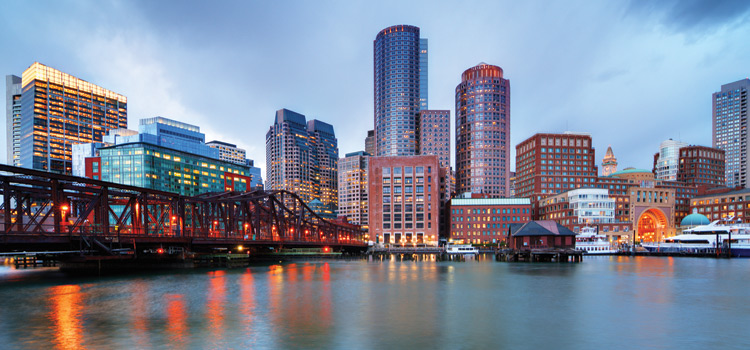 Native Americans inhabited the area that is now Boston more than 4,000 years ago,
with Puritans and Pilgrims arriving in the 1600s. Today, Boston has a growing labor
force that added nearly 15,000 workers from 2017 to 2018. In 2018, Boston
completed more than 3,700 new housing units and approved permits for another
29,000 as the city estimates it will add about 75,000 residents by 2030, bringing the
population to 759,000.
Hartford

The population of Connecticut's capital shrank by 1.7% from 2010 to 2018. Wages
are relatively high, however, with the average metro-area worker earning $1,410
per week, compared to the U.S. average of $1,184. The median home price rose 4.8%
annually to $136,400 this past September, although Hartford has much larger
shares of homes with negative equity and delinquent mortgages than the U.S. as a
whole.
Providence

Founded in 1636 by religious-freedom seeker Roger Williams, the Rhode Island
capital is the third-largest city in New England. Census figures show the city's
homeownership rate averaged a paltry 34.7% from 2013 to 2017. Real estate data
provider NeighborhoodScout reported that only 23% of Providence's housing stock
is single-family homes and about 54% of all homes were built in 1939 or earlier.
Sources: Bangor Daily News, Boston Business Journal, Boston Planning and
Development Agency, Brittanica.com, CNBC, Forbes, Hartford Courant, History.com,
Maine Association of Realtors, Massachusetts Association of Realtors, MetroHartford Alliance, National League of Cities, NeighborhoodScout, NH Business
Review, The New England Council, U.S. Bureau of Economic Analysis, U.S. Bureau of
Labor Statistics, U.S. Census Bureau, U.S. News & World Report, Vermont
Department of Economic Development, Zillow