A dinner-table bargain settled one of the first and most fractious arguments of the American republic. In 1790, Congress was looking for a permanent location for the seat of federal power. At the same time, Treasury Secretary Alexander Hamilton was attempting to convince lawmakers to assume all of the states' debts, with the states in turn being obligated to pay taxes to the federal government.
An impasse loomed and tempers threatened to rip the young country apart. That's when newly appointed Secretary of State Thomas Jefferson hosted a dinner with Hamilton and Virginia Congressman James Madison, and a compromise was struck. The capital would be built along the banks of the Potomac River and the federal government would gain a means to generate revenue.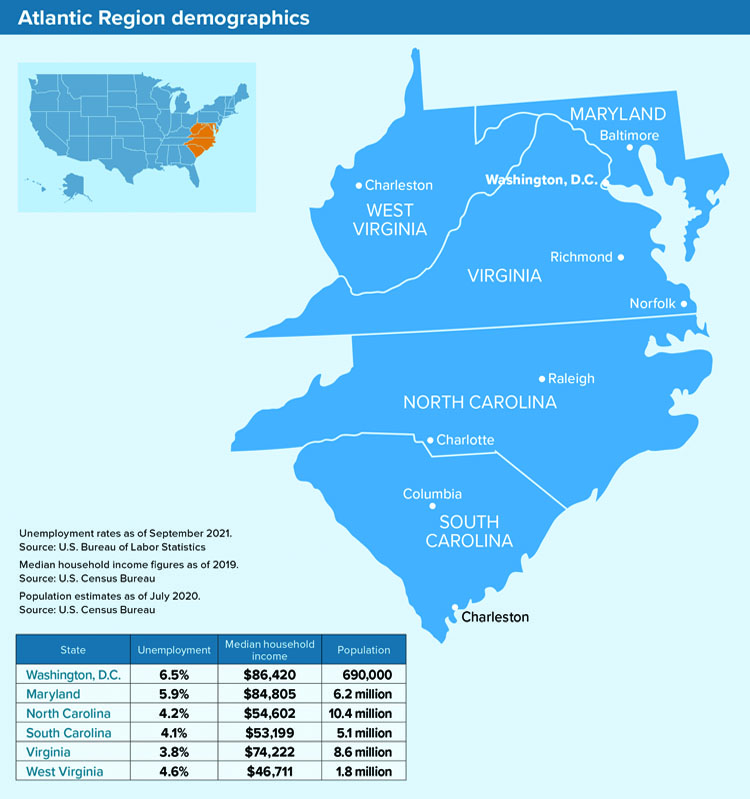 This agreement continues today in the shaping of the Atlantic Region of Maryland, Virginia and Washington, D.C., as well as neighboring West Virginia, North Carolina and South Carolina. The 18th-century compromise led to the creation of the District of Columbia, and the construction of the White House and U.S. Capitol, but it also established a permanent federal civilian workforce in the region that currently numbers more than 280,000.
About one in eight federal employees work in D.C., Maryland and Virginia.
The Atlantic Region benefits from more than the federal government. Virginia will be getting a boost from the arrival of Amazon's second headquarters, or HQ2, in Arlington. Construction is set to begin in 2022 and finish in 2025. Some 25,000 employees are expected to work at the site within a decade.
North Carolina is home to two of the 10 largest banks in the U.S. — Bank of America with $3 trillion in assets and Truist Financial Corp. with $522 billion in assets. Both are headquartered in Charlotte. South Carolina is an aerospace-manufacturing hub. More than 20,000 people are directly employed in aerospace in the Palmetto State. Notably, Boeing is building the 787 Dreamliner exclusively at its plant in North Charleston.
West Virginia ranks No. 2 in the U.S. for coal production
, producing about 13% of the fossil fuel for the nation. The state is seeking to diversify its economy due to fears of a coal mining bust. The Mountain State suffered a blow this past summer when pharmaceutical giant Mylan announced the closure of its Morgantown plant, resulting in 1,400 layoffs.
North Carolina ranked 11th in the nation last year for gross domestic product (GDP), or the sum of all goods and services produced in the state, at $589.8 billion. Virginia ranked 13th with a GDP of $549.5 billion. Maryland was 15th at $410.7 billion, South Carolina was 24th at $244.9 billion and West Virginia was 41st at $75.9 billion. ●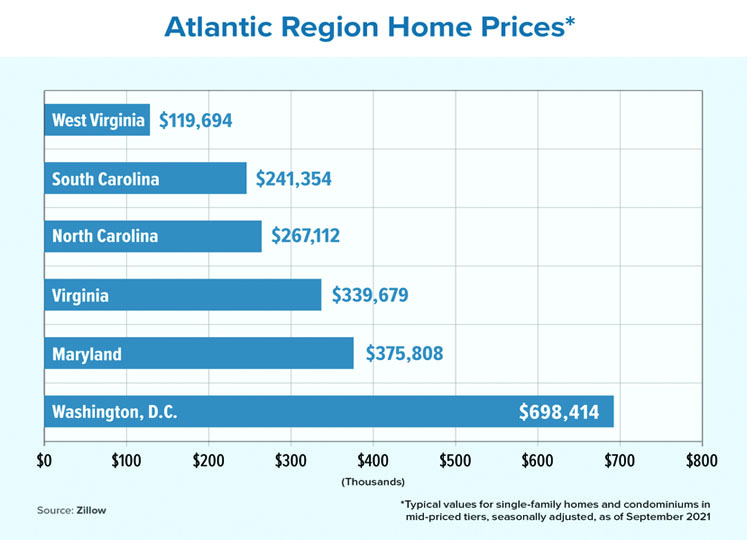 The Atlantic Region states had hot housing markets with low inventory and accelerating prices in the aftermath of the COVID-19 pandemic. Every state in the region saw home prices jump on a year-over-year basis.
For instance, the typical home value in South Carolina rose from $196,000 in August 2020 to $241,000 in September 2021, for a 22% increase in a little more than a year, according to Zillow. West Virginia saw typical prices jump from $108,000 to $120,000 in the same time span, which equated to an 11% price gain.
Still, there were signs of slowing market demand. The number of listings that went under contract in the Washington, D.C., metro area decreased by 4% from July to August of this year. And sales of single-family homes in North Carolina fell to an annualized rate of 676,000 in June 2021, down 19.4% from the same month a year earlier. The Bright Multiple Listing Service reported this past October that frenzied demand in areas such as Baltimore and D.C. had slowed to strong or moderate paces.
Focus: Fishing industry

The commercial and recreational fishing industries account for tens of thousands of jobs in the Atlantic Region states. About 30,000 people are employed in the commercial fishing industry in Maryland and Virginia, according to the National Oceanic and Atmospheric Administration.
Recreational fishing is more important for North and South Carolina, where about 40,000 people are employed. Even landlocked West Virginia capitalizes on recreational fishing with about 5,000 jobs being supported by the industry.
Climate change is a concern for the fishing industry
due to warming seas, rising water levels, and more frequent and powerful storms. These conditions are threatening estuary species, which in turn could threaten the region's fisheries. Groups representing the fishing industry also are worried about excess regulations designed to increase sustainability for fisheries that could unintentionally affect the industry's bottom line.
Even the COVID-19 pandemic caused problems for the fishing industry. Last year, tourists tapped the brakes on taking excursions on recreational vessels while restaurant closures limited the demand for fresh-caught seafood.
What the Locals Say
"We are seeing a little bit of a slowdown. Instead of 20 or 15 offers, we may be seeing four or five. We're seeing a lot more price reductions, houses on the market a little longer. It was really a much-needed change because these buyers, especially first-time homebuyers, are having a hard time. We're getting a lot of buyer fatigue. … We're going to still see some [home-price increases]. There's not a day that goes by that I won't talk to somebody from California or Washington, or Oregon or New York, that's moving to Texas. A lot of them are moving right here in central Texas where we're at."
Ray Logue

Branch manager
loanDepot
3 Cities to Watch

Norfolk

The Virginia General Assembly in 1682 called for each county to create a trade center, which led to Norfolk being laid out as a town. Today, the city has a population of 242,000 and is home to one of the largest naval bases in the world, with more than 75 ships and some 82,000 active-duty personnel.
Other major employers include auto parts manufacturer Toyotetsu Canada
(850 employees), logistics company Scotlynn Commodities (850) and ice cream maker Good Humor (400).
Raleigh

This city was established in 1792 as a planned capital city for the state of North Carolina. The city is named after Sir Walter Raleigh, who funded the first European expeditions to the coast of the Carolinas. Raleigh, with a population of 474,000, is part of the Research Triangle Park, anchored by the University of North Carolina in Chapel Hill, Duke University and North Carolina State University — some of the state's largest employers. Raleigh's median household income is $67,266.
Clemson

This South Carolina city's history is closely tied to that of Clemson University. Thomas Green Clemson, an engineer who married U.S. Vice President John C. Calhoun's daughter, Anna Maria, eventually settled at her family plantation in South Carolina. He left his land and fortune to the state to create an agricultural college. The university employs more than 5,000 in the city of Clemson, which has a population of 17,500. The median household income is $43,568.
Sources: American Sportfishing Association; Bright Multiple Listing Service; Britannica.com; Carolina Public Press; Clemson University; CNBC; Federal Financial Institutions Examination Council; GSA Business Report; KING-TV; Logistics Management; National Oceanic and Atmospheric Administration; Naval-technology.com; Norfolk County Economic Development; North Carolina History Project; PBS; U.S. Bureau of Economic Analysis; U.S. Energy Information Administration; U.S. Office of Personnel Management; Washingtonian; WCBD-TV; West Virginia Center on Budget and Policy; West Virginia Public Broadcasting; Zillow